There comes a time in every marketer's career when they wonder: "How can I kick it up a notch?"
If you find yourself asking this, SMS marketing may be the answer. With high deliverability and great engagement, SMS marketing is a compelling tactic to add to your overall strategy. However, if you're new to it, you may not quite know what to send your users. Or, if you've been using it and not seeing much success, you could think it's not worth it.
Fortunately, SMS campaigns can run the gambit. They're also easy to tailor to your business to maximize efficiency. Below we offer some ideas with easy-to-use and repurpose templates you can get started with quickly.
Tips Before Creating Your Campaigns
Having a solid campaign with an inviting template will almost definitely result in some high metrics. Yet, if you start texting with a customer right off the bat with no forethought, it could all be for naught.
Because of this, we suggest taking note of a few things before hitting "Send":
Let your leads and customers know who you are (if they texted a code to join your SMS campaigns, make sure you send a follow-up text acknowledging that).
Don't send texts without including a way for users to opt-out or opt-in to your communication.
Don't overwhelm your users with too many texts.
Be mindful of the time of day you're sending.
Include a contextual CTA.
Keep your message short and to the point.
Personalize where you can

(this can help you avoid spam and improve engagement).
SMS Campaign and Template Ideas
As we mentioned, SMS marketing is super flexible. If you have an idea that you think would make sense in a text, then it probably will work! With that said, some campaigns will perform better than others. These include discounts and promotions, confirmations or welcome campaigns, reminders, alerts, follow-ups, feedback, and loyalty programs or messages.
Here are some templates that you can copy and edit to fit your company:
Discounts or Promotions
Hi [first name], it's time to treat yourself! Stop into [your store] for 30% off today only. Reply STOP to unsubscribe.
Looking to learn something new, [first name]? Head over to [your website or URL] for 50% off design courses. Text STOP to unsubscribe, HELP for more.
Confirmations/Welcome Campaigns
Hi [first name], thanks for opting into updates from [your company]! You can text STOP at any time to unsubscribe.
Hi [first name], thanks for scheduling an appointment with [doctor/instructor/person] at [your business]. Let us know you're coming by replying YES to confirm. Text STOP to unsubscribe.
Reminders
Hi there, [first name], this is Dan's Dentistry. Please remember to schedule your next cleaning! Text S to get started. Reply with STOP at any time to unsubscribe.
Hi there, [first name]. It's Kelly from SMSZap! You have a meeting scheduled with [sales person] on [date]. Reply to confirm or reschedule.
Alerts
Hi there, [first name]. [Your business name] will be closed today for the holiday. We will resume normal operations Monday. Reply STOP to unsubscribe.
Hello, [first name], this is [your name] from Michelle's Milkshakes. Your order is being worked on now! Text back with questions or STOP to unsubscribe.
Follow-ups
Hey, [first name]. This is [name] from Scott's SaaSy Software. Did you have any more questions after our meeting?
Hi [first name], Rob B from Lynton here. It was great chatting. Let me know if you have any questions!
Feedback
Hi, [first name]! Everyone at Stefan's Scooters hopes you're well. Would you like to share your recent experience with us? If so, please leave a review on Yelp. Text STOP to unsubscribe.
I enjoyed talking today, [first name]. Want to leave feedback? If so, please take this five-minute survey. [link]. Text STOP to unsubscribe.
Loyalty or Birthday Messages
Happy birthday, Caroline! Show this text to your cashier at [company name] for a free cookie! Enjoy! Text STOP to unsubscribe.
Hi [first name], you're one purchase away from a free [item]. Stop in today to get one step closer or see what's new in the store. Reply STOP to unsubscribe.
The Platform That Makes SMS Marketing Easy
For those completely new to SMS marketing, you're going to need a tool to send your campaigns. SMSZap, built natively for HubSpot, is a great choice. With SMSZap, you can tap into the power of SMS easily with templates for 1:1 messaging, messaging for larger groups, and bulk list messaging when you need to send mass communication.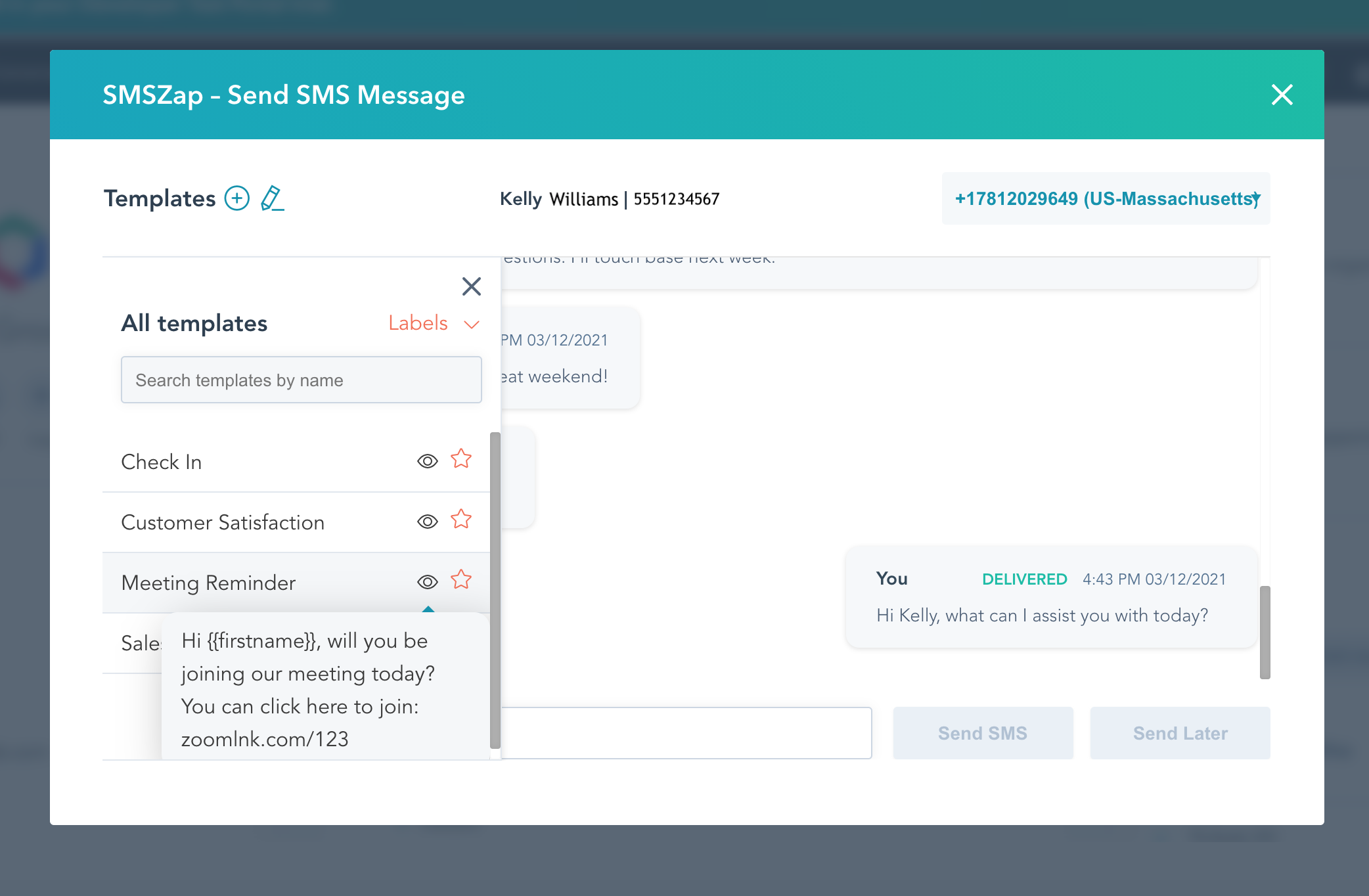 Just a note - when accessing templates for the first time in SMSZap, you'll see a null screen and be prompted to create templates of your own, which you can use later on. If you're not sure what to say, that's where our ideas from above come into play! You can always reach out to the team to brainstorm additional ideas that fit your business's needs.